October 19, 2023
A Sophisticated, Green Wedding: Marrying Style with Sustainability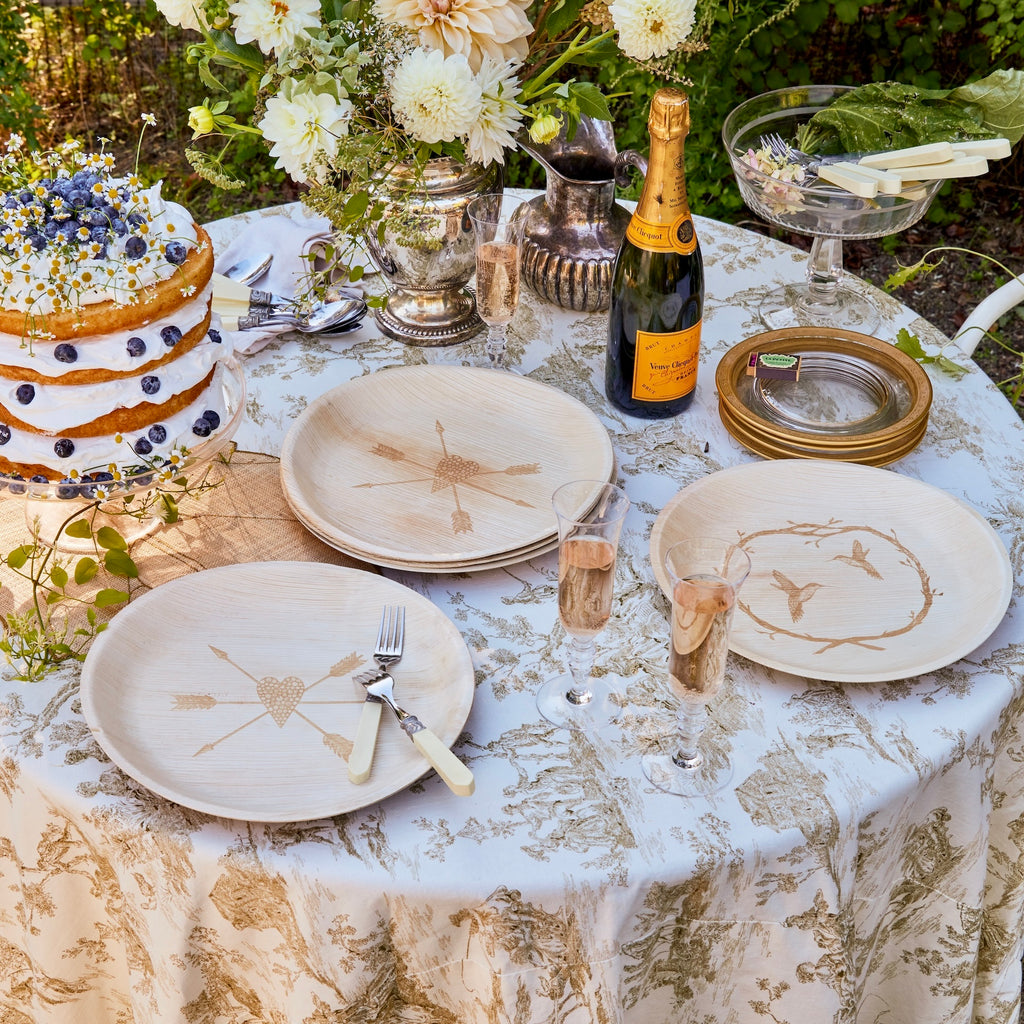 A green wedding can be a symphony of sophistication, style, and environmental consciousness, allowing couples to make a statement about their values without compromising on the aesthetic appeal of their special day. However, it can be difficult to find eco-friendly options that are also elegant. In this post, we highlight various choices that are just as sophisticated as they are sustainable, so you can have the wedding of your dreams without harming the planet. 
Make an Elevated, Eco-friendly First Impression
To orchestrate an elegant green wedding, it is imperative to start the journey with brands that share your vision for sustainability and style. Consider using Moo's premium eco-friendly cards for your invitations. Their Eco line is made from 100% recycled paper, uses recyclable inks, and is made with wind power.
Present an Effortlessly Elegant, Eco-Friendly Tablescape
For tableware, maaterra offers disposable, compostable plates that are a harmonious blend of sophisticated design and sustainability. You can even customize them to feature your names, initials and more. For napkins and linens, consider using sophisticated, female founded brands like Jenni Kayne, Food52, Made Trade, Raven + Lily and India Hick's collection for Pomegranate to create a chic and sustainable tablescape.
Select Eco-chic Centerpieces
Consider procuring sustainable, organic, and locally sourced centerpieces. Opt for flowers that are in season and locally grown to reduce the carbon footprint associated with transportation. Consider using potted plants or succulents as centerpieces, as they can be replanted after the event, serving as lasting mementos. The Bouqs Co. offers sustainably sourced flowers and greenery. Etsy also features a variety of sellers providing eco-conscious centerpieces and floral arrangements.
Create a Green Wedding Atmosphere
Beyond tableware, consider an eco-friendly wedding environment. You can find an excellent selection of eco-friendly venues here. If you're looking for a destination wedding, here are some environmentally friendly options.
Cater to a Conscious Palette
For the culinary aspect, align with caterers such as Farmstead Catering and Root & Stem who make sustainable choices to reduce their carbon footprint while offering a menu brimming with freshness and flavor. Complement the cuisine with organic wines from brands like Grgich Hills Estate to complete the green dining experience.
Make Sustainable Fashion Choices
In the realm of bridal fashion, brands like Reformation and Stella McCartney offer stunning, sustainable bridal collections. Grooms can opt for suits from brands like Brooks Brothers, who offer options crafted from sustainable fabrics.
Conclusion: A Celebration of Love and Nature
An elegant green wedding is a celebration of love, beauty and a commitment to the environment. By choosing brands like maaterra, Reformation, and Grgich Hills Estate, you can ensure your wedding is a sophisticated and memorable affair that also honors the planet. Entering this union with a step towards sustainability sets the tone for a future filled with conscious choices and respect for the world in which we live.